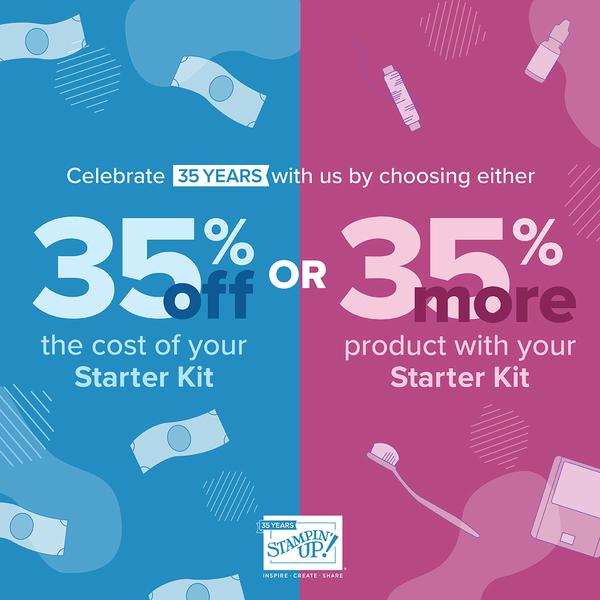 HAPPY STAMP-IVERSARY TO STAMPIN' UP!
Starting October 3, 2023
We want to celebrate our 35th anniversary in style! From October 3-31, anyone who joins our fun crafting community as a new demonstrator OR discount shopper can choose either 35% OFF the cost of their Starter Kit or get 35% MORE product with their Starter Kit! This is such a GREAT deal!
***The Time is NOW Through October 31 Only***
I belong to an amazing group of stampers and you can, too! You'll love the opportunity to share and learn from others as they share with you. This is a great group that love cheering each other on as they share their passion for stamping! There are card challenges, demonstrations of fun folds, techniques and layouts. You'll get to learn new techniques to help you grow your stamping business as well as make so many new friends in the process.
No matter where you live in the United States – you can join me! Just click here! The kit is completely customizable – you can order what you want.
Here are some of the benefits
Enjoy a minimum 20% discount on future orders!
Get to PRE-ORDER products before everyone else!
Monthly ZOOM team meetings with our upline!
Card swaps and card challenges with our team!
So much more…
YOU HAVE TWO OPTIONS:
Option 1: 35% OFF the cost of your Starter Kit . When you select this option you'll receive $125 worth of product for only $64.35! That's a discount of $34.35!
Option 2: Choose 35% MORE product with your Starter Kit. With this option you'll receive $168.75 worth of product for only $99! AND you get to choose what products you want!
BUT WAIT, THERE'S MORE…
PLUS as an ADDED BONUS
You'll receive FREE registration to Stampin' Up!'s OnStage@Home virtual event on November 11th – a $77 value. At this virtual, one-day event, we'll celebrate our 35th Stampin' Up! anniversary, watch lots of presentations, and view new products in action from the NEW January–April 2024 Mini Catalog and Sale-A-Bration Brochure! In fact, you'll be able to order brand new products for the Craft Along Experience where you'll follow along and create crafts from the comfort of you own home! So what are you waiting for? Click here!!